OH HAPPY DAY! IT'S HERE! IT'S HERE! LOST RETURNS, CALLOO CALLAY!!
I'll be wearing my muu-muu. Will you be wearing yours?
Clips, links, and promos after the jump ---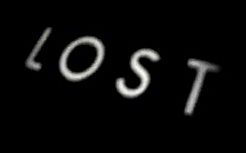 New York
magazine
talks to Lloyd Braun,
the voice of
Previously ... on LOST
. There is something about his voice that I have always found deeply creepy.
The NYT has also put together an
interactive time line
to help untangle the time lines. Loops, dude. Loops.
Gawker.TV has scoured the interwebs and compiled the best of
LOST inspired fan art
.
I've posted this Spanish Chessboard promo previously, but this version is dubbed in English ... by John Locke himself!
If you're short on time, this will get you up to speed in 8 minutes, 15 seconds.
If you've got a little more time on your hands, take a spin through
all five seasons
of Therese's in depth, exhaustive - dare I say,
diatribic
- recaps. She's helpfully compiled all of the links (along with an overview) into one post. It's not like you're going to get any work done today. So,
There is an island. It is a weird island ...