Oh yes. I ordered a pair.
Dr. Martens 1460 8 Eye Boot - Pewter Koram Flash - Shoebuy.com
I'll be wearing one of these when I marry my next ex-husband.
Spiffing Jewelry
via
The Mary Sue
Step by step instructions for making your own custom stemware. You'll have to drink a lot of wine to stave off the nightmares.
Do you hear a baby crying?
How to make a doll into a wine glass in 23 quick steps
via @NoShowMo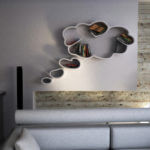 There are many rooms in my Father's house, and in each one a bookcase.
Bookcase Porn - A Showcase of Sexy Bookcases